The CBS Children's Film Festival
1972-1973 Season
---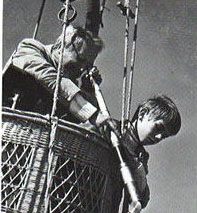 Stowaway in the Sky
Also known as: Voyage en Ballon, Le Voyage en Ballon

France 1959 85min
Broadcast: 09/09/72, 02/03/73 (Part 1),
02/10/73, 09/16/72 (Part 2)
Directed by: Albert Lamorisse


An old aeronaut wagers he can fly across France in a balloon. He does so, with his grandson as a stowaway. Tou Tou, a mechanic, tracks the balloon's flight from the ground in an ancient touring car. This turns out to be fortuitous for Pascal and his grandfather when a forest fire causes them to lose their craft. Aerial footage of Paris , Alsace - Lorraine, and the Loire Valley highlights the tale.

Cast:
| | | |
| --- | --- | --- |
| Pascal Lamorisse | ........ | Pascal |
| André Gille | ........ | The Grandfather |
| Maurice Baquel | ........ | Tou Tou, le mécanicien |

Notes: Jack Lemmon narrates.
Winner of six European awards and Parent's Magazine's Family Medal for Best Film

The aerial portions of the 1960 movie were filmed from a helicopter in system of low altitude aerial photography
IMDB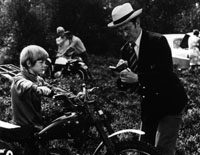 Scramble

United Kingdom 1969 61min
Broadcast: 09/23/72, 01/06/73
Directed by: David Eady

A young boy, Jimmy Riley has been in trouble with the police. He seems destined to follow in his imprisoned father's footsteps until he is offered a job as a garage mechanic and, as a bonus, is taught the sport of motorcycle scrambling. He joins a motorbike club and learns important life lessons along with the rules of the road. He puts his new outlook to the test when he must face down a pair of car thieves.

Cast:
| | | |
| --- | --- | --- |
| Ian Ramsey | ........ | Jimmy Riley |
| Stuart Lock | ........ | Colin Buxton |
| Stephen Mallett | ........ | Brian Buxton |
| Lucinda Barnes | ........ | Vicky |

Notes: A Children's Film Foundation Production
IMDB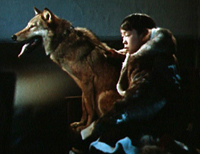 Tymancha's Friend
Also known as Tyman-Cha's Friend, Drug Tymanchi
Друг Тыманчи

Soviet Union 1970 70min
Broadcast 09/30/72, 01/13/73
Directed by: Anatoli Nitochkin


An award winning film filmed in Siberia about a wolf cub and an Evenki boy. The boy raises the cub to adulthood and is later forced to let it go into the forest. Three years later they meet again in a climactic scene in which the animal sacrifices its life for its human friend.

Cast:
| | | |
| --- | --- | --- |
| Sasha Barbasenok | ........ | Tymancha/Tymanchi |
Also: Alexandr Safranov, V. Syngalayev, Zinaida Pikunova, A.Khromov

Notes: The cast was made up entirely of non-professional actors.
The film received two awards at the Monte Carlo Film Festival as Best Children's Film and for Best Direction.
When screened in the local villages, not all of the viewers, particularly the younger ones, understood the nuances of their native language. The film had to be translated into Russian, because at that time Evenki was not taught in the native schools. This spured Zinaida Pikunova, an Evenki woman who played a major role in the film, to start an experimental program in native language education.
IMDB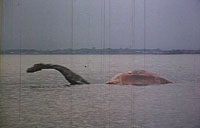 The Johnstown Monster

United Kingdom 1971 45min
Broadcast 10/08/72, 02/17/73
Directed by: Olaf Pooley

A youngster's photo shows a Loch Ness-like monster to be real, but skeptics think it is a ploy for tourists. According to the local legend of the fictional town in the story, it only arose once every 100 years. While on holiday in the Irish village of Johnstown, a boy becomes friendly with four other children and learns of the legend. He then hits on the idea of making a fake monster that will attract tourists and bring prosperity to the village. The children come up with a fake that fools everyone for a short time, until the hoax is revealed by an American tourist. Just then, the REAL monster from the deep, who just so happens to be awakening from his century long slumber on that very day, surfaces and capsizes the American's boat.

Cast:
| | | |
| --- | --- | --- |
| Connor Brennan | ........ | Dominic |
| Simon Tully | ........ | Jock |
| Rory Baily | ........ | Brendan |
| Kim McDonald | ........ | Jenny |

Notes: A Children's Film Foundation Production
IMDB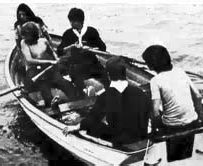 Danger Point
Also known as: Gefahr droht im Nebel

United Kingdom 1972 56min
Broadcast: 10/28/72, 03/10/73, 07/21/73
Directed by: John Davis


Adventure drama concerning a fun-loving trio of teenagers, a girl and two boys, who flirt with danger when they take an unauthorized ride in a Sea Scout yacht called the "Seawitch". Sailing fun soon turns into dangerous adventure when the craft runs out of fuel. They become stranded at sea in treacherous waters and drift toward a wartime mine.

Cast:
| | | |
| --- | --- | --- |
| Bernard Lee | ........ | Captain |
| Youths: | ........ | Veronica Purcell, Ian Gibson, Raymond Hoskins, John Hicks, John Poore |

Filmed off the Isle of Man. Sponsored/distributed by the Children's Film Foundation
IMDB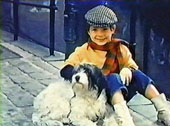 Clown and
Other Stories

Broadcast 11/04/72, 04/28/73
A trio of short stories from France, all told without dialogue.
Each film presents a story illustrating love--as a child experiences it.

1. Carole, I Love You
1971 17min
Also known as: Carole Je t'aime
Directed by: Michel Lang


A shy schoolboy is smitten by a pretty eight-year old classmate and longs to carry her books. Carole insists that he prove worthy of her love by challenging the class bully to a fight.
Cast: Sylvie Hughes (Carole) Also: Alain Gravian, Robert Lombard

2. Thunderstorm
1966 10min
Also known as: The Thunderstorm,
Quand Le Ciel Se Fâche
Directed by: Pierre Rihouet


A boy and his dog battle the elements. The two chase after a rabbit and are caught in a thunderstorm.

3. Clown
Notes: Presented by the Learning Corporation of America. Each short has won international awards, including the Silver Medal at the Oberhausen Festival, Honor Diplomas, Moscow, and the Walt Disney Award.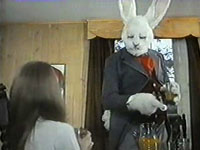 Mr. Horatio Knibbles

United Kingdom 1971 60min
Broadcast 11/11/72, 05/05/73, 08/04/73
Directed by: Robert Hird

Mary Bunting's parents refuse her a rabbit as a birthday present. Later, to her surprise, a six foot rabbit appears, Mr. Horatio Knibbles. He is a magic rabbit that only Mary can see. Some belongings of Mary's mother go missing and with the help of Mr. Knibbles and his friends---squirrel, pigeon and magpie---the real culprit is found.

Cast:
| | | |
| --- | --- | --- |
| Lesley Roach | ........ | Mary Bunting |
| Gary Smith | ........ | Tom |
| Rachel Brennock | ........ | Nancy |
| Jane Jordan Rogers | ........ | Mrs. Bunting |

Notes: A Children's Film Foundation Production
IMDB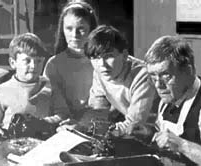 Headline Hunters

United Kingdom 1967 60min
Broadcast 11/25/72, 05/12/73
Directed by: Jonathan Ingrams


An English adventure about three children who use their ingenuity to save father's newspaper from going out of business. Their dad takes ill and his rival persuades the paper's sole reporter to go to work for him, hoping to force the closing of the publication. The siblings join forces with some friends to keep the paper in circulation, while trying to expose the plot of their competitor.

Cast:
| | | |
| --- | --- | --- |
| Leonard Brockwell | ........ | Terry Hunter |
| Susan Payne | ........ | Joan Hunter |
| Stephen Garlick | ........ | Peter Hunter |

Notes: A Children's Film Foundation Production
IMDB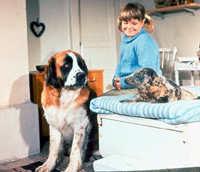 Tjorven, Batsman and Moses
Also known as: Tjorven, Bĺtsman och Moses,
Ferien auf Saltkrokan: Der verwunschene Prinz

Sweden 1964 89min
Broadcast Broadcast 12/02/72, 05/19/73
Directed by: Olle Hellbom


Tjorven, a girl who lives on an island north of Stockholm, has a 220lb watchdog as her closest playmate. The duo becomes a trio when a local fisherman brings her a baby seal she names Moses. The cares for the seal, and when she learns the fisherman wants to sell Moses to a zoo, she hides it. Later, she responds to the needs of the animal and releases it back to the sea.

Cast:
| | | |
| --- | --- | --- |
| Maria Johansson | ........ | Tjorven Grankvist |
| Bitte Ulvskog | ........ | Freddy Grankvist |
| Eva Stiberg | ........ | Marta Grankvist |
| Stephen Lindholm | ........ | Pelle Melkersson |
Notes: Special 90 minute broadcast. Winner of the Lion of San Marco at the 1965 Venice Film Festival. The second of a series of film adaptations of stories by Astrid Lindgren, created by the same director and cast.
IMDB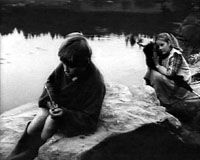 Adventure in Golden Bay
Also known as: Dobrodružství na Zlaté zátoce

Czechoslovakia 1955 70min
Broadcast 12/09/72, 06/23/73
Directed by: Bretislav Pojar

An orphan lives in the country with his grandfather. His playmates consist almost entirely of animals, frogs, birds and even a carp which he has trained to eat out of his hand. One day the carp is threatened by a large pike, and the young lad declares he will catch the predator before nightfall. His human friends torment him, and he becomes the laughing stock of the village until he really does catch the pike.

Cast:
| | | |
| --- | --- | --- |
| Ilja Cernohorsky | ........ | Jirka |
| Vladmir Hlavaty | ........ | Deda |
| Jarina Reiskova | ........ | Marenka |
Notes: winner of the Grand Prize at the Montevideo Film Festival in 1956 and the Grand Prix at the Venice Film Festival the following year

IMDB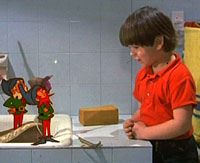 Tony and the Tick-Tock Dragon
Also known as: Hahó, Öcsi!, Hi, Junior!,
Hallo, Brüderchen!, Kajtek i siedmioglowy smok,
A Boy and Dragon with Seven Heads

Hungary 1971 89min
Broadcast 01/27/73, 05/26/73
Directed by: György Palásthy

A story that blends animation with live action about a boy looking for time, something his father won't give him. Everyone loves five-year old Tony Balogh, but no one has time for him. During an argument he is punished and sent to the bathroom. Suddenly the bathtub fills with water and two animated dwarves, Kokojszi and Bobojsza come through the running water of the bathtub. The boy asks for time, but the little men reply that only he can provide it for himself, if he is courageous, strong, and skillful. They then take Tony on a journey down the drain. He protects them in the country of Bergengocia. After a series of struggles and battles, and with the help of a magic rose given to him by the three-year old Princess, he defeats the Seven-Headed Dragon, the usurper of Time. Thus, when he returns home (after 5 minutes "real" time) he finds a happy and relaxed family released from the constant pressures caused by a lack of Time. Later, on the way to his kindergarten class, Tony and his father finally discover a way to understand one another.

Cast:
| | | |
| --- | --- | --- |
| Krisztián Kovács | ........ | Balogh Öcsi/Junior/Tony |
| Manyi Kiss | ........ | Balogh nagymama/Grandmother |
| Gabor Koncz | ........ | Apa/Father |
| Eszter Szakacs | ........ | Anya/Mother |

Notes: Sequel (of sorts): Hahó, a tenger! (1972) aka Junior Jr. comes!
IMDB







Also Broadcast:
| | |
| --- | --- |
| The Yellow Slippers | 10/14/72, 03/03/73 |
| Tiko and the Shark | 10/21/72, 03/24/73, 07/14/73 |
| Elephant River | 11/18/72, 06/30/73 |
| The Goalkeeper Also Lives on Our Street | 12/16/72, 03/31/73 |
| Hand in Hand | 04/21/73 |
| Testa di Rapa | 06/02/73, 08/25/73 |
| Skinny and Fatty | 06/09/73, 03/17/73, 09/01/73 |
| John and Julie | 06/16/73, 08/18/73 |
| The Little Ones | 04/14/73, 07/07/73 |
---