The CBS Children's Film Festival
1974-1975 Season
---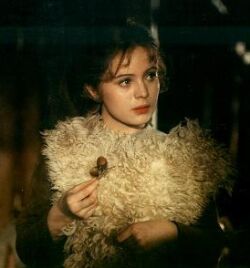 Three Nuts for Cinderella
Also known as: Tri orísky pro Popelku, Three Wishes for Cinderella,
Drei Nüsse für Aschenbrödel, Три орешка для Золушки

Czechoslovakia 1973 85min
Broadcast 09/07/74, 03/01/75
Directed by: Václav Vorlícek


Updated version of the classic tale. Cinderella, an independent and energetic young girl, has a happy childhood until the death of her father, when her stepmother begins treating her as a servant. In this version of the story, three magic hazelnuts replace the fairy godmother and help Cinderella's dreams come true.

Cast:
| | | |
| --- | --- | --- |
| Libuse Safrankova | ........ | Popelka |
| Pavel Travnicek | ........ | Prince |
| Carola Braunbock | ........ | Mother |
| Rolf Hoppe | ........ | King |
| Karin Lesch | ........ | Queen |

Notes: DVD available from http://www.facets.org/asticat?function=buyitem&catname=facets&catnum=/70436
Fanpage: http://www.dreihaselnuessefueraschenbroedel.de/htmls_e/index.htm
IMDB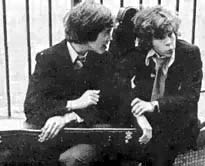 Paganini Strikes Again

United Kingdom 1973 59min
Broadcast 09/14/74, 02/22/75
Directed by: Gerry O'Hara


When Mike and Bill, two young British schoolboys, are riding in a lift on their way to a music lesson, they hear a gunshot and see two feet in yellow work boots running up the adjoining stairs. They inform the police and learn that a jewelry store has been robbed. They suspect that the mysterious person in the boots is guilty of the robbery, but the police won't consider it, so they decide to play detective themselves. They notice that the window cleaner at their school, a man named Raddings wears yellow boots. Meanwhile their friend Pitmore, Raddings' nephew, finds a bunch of stolen silver at his house and is forced by his uncle to help dispose of it. When Pitmore fails to attend a concert rehearsal. Bill and Mike go to his house and see him hurrying away carrying some heavy-looking bags. Suspicious, they follow him and end up at a freight yard where Raddings and his accomplices are loading the silver into freight car.

Cast:
| | | |
| --- | --- | --- |
| John Arnatt | ........ | Inspector Mainwarin |
| Philip Bliss | ........ | Bill |
| Andrew Bowen | ........ | Mike |
| Simon Thompson | ........ | Pitmore |
| Dudley Sutton | ........ | Raddings |
| Julie Dawn Cole | ........ | Nicola |

Notes: A Children's Film Foundation Production
IMDB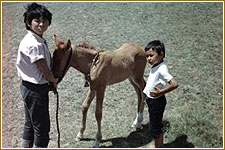 Shok and Sher
Also known as: Chok und Cher, Schok und Scher,
Shok i Sher, Шок и Шер

Soviet Union 1971 63min
Broadcast 09/21/74, 01/11/75
Directed by: Kanymbek Kassymbekov (Kasimbekov)


The mare of Sher, a young Russian boy, dies after giving birth to a chestnut foal. Sher and a young friend raise the colt, name him Shok, and train him for races. When the day of a big cross-country race arrives, Shok and Sher are ready, but during the race Sher falls and breaks his arm. When he is later released from the hospital, his brother picks him up with a new motorcycle. Sher is delighted with the motorcycle until he learns that, in order to buy it, his brother sold Shok.

Cast:
| | | |
| --- | --- | --- |
| Talgat Ukimov | ........ | Sher |
| Kambar Valiyev | ........ | Galimshan |
| Tamara Kosubayeva | ........ | |

Notes: A Kazakhfilm Studios production
IMDB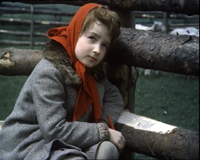 Bunnie
Also known as: Buleczka, Roly
Brötchen, A Girl Called Breadroll

Poland 1973 81min
Broadcast 09/28/74, 03/15/75
Directed by: Anna Sokolowska


Bunnie is sent by train from her foster home in a small village to live with her aunt and uncle in a big city. She is delighted to find that she also has a cousin, but Darina is a lonely and sickly child, cared mostly by the housekeeper, and she resists Bunnie's efforts to be friendly. Soon, the bright and talkative girl wins over her cousin and uncle. Bunnie's aunt and uncle are often away from home, but she is pleased with her new family, and writes of her happiness to her foster parents. The boy next door is given the letter to mail, and he mischieviously replaces it with a fake letter saying how unhappy Bunnie is and how she dislikes her relatives--a prank with traumatic repercussions for the little girl. When the letter is returned for postage due, the housekeeper, shocked to read of Bunnie's "feelings", angrily shows the letter to the uncle. After being confronted by her upset relatives, the confused girl is convinced that no one understands her, and runs away to the home of a kindly veterinarian whom she had met on the train.

Cast:
| | | |
| --- | --- | --- |
| Katarzyna Dabrowska | ........ | Bunnie/Buleczka |
| Dorota Orkiszewska | ........ | Darina |
| Jacek Bohdanowicz | ........ | Karel |
| Leonard Pietraszak | ........ | Veterinarian Mikolaj |
IMDB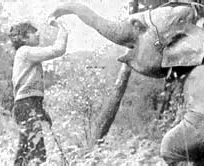 Anoop and the Elephant

United Kingdom 1972 55min
Broadcast 10/05/74, 03/22/75
Directed by: David Eady


At summer camp two English kids meet their friend Anoop Singh, an East Indian boy, and his baby elephant Rani. Anoop, learns that Rene, the owner of a nearby circus, has used Rani as collateral in borrowing money to repay a loan, and the elephant is handed over to Barker. The children decide that they must prevent this. Anoop and his friends remove Rani from Barker's truck and find that hiding even a small elephant isn't easy.

Cast:
| | | |
| --- | --- | --- |
| Anoop Singh | ........ | Anoop |
| Linda Robson | ........ | Linda |
| Phil Daniels | ........ | Billy |
| Rachel Brennock | ........ | Penny |

Notes: A Children's Film Foundation Production
IMDB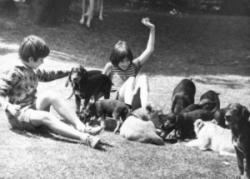 The Orange Watering Cart
Also known as: A Locsolókocsi, L'Arroseuse orange
The Orange Watering Truck

Hungary 1973 88min
Broadcast 10/12/74 & 03/08/75
Directed by: Zsolt Kézdi-Kovács


The story revolves around three children and a school project. Their youthful romantic triangle provides a springboard for visual fantasy. Oma lives under depressing circumstances, but dreams of becoming involved with the circus. A new classmate, a pretty girl named Bori Kral, comes to the sixth grade class. Oma immediately takes a liking to the clever and charming girl. He tries to attract Bori's attention, but she ignores him and is nice instead to his friend, Totyi. Bori and Totyi even ride together on a watering truck (a popular vehicle in Hungary used to water down the streets), much to Oma's disappointment. He cheats at the table-making competition to get the girl's attention, but Bori ends up comforting Totyi. Eventually, things work themselves out and the kids end up a little older and a little wiser.

Cast:
| | | |
| --- | --- | --- |
| Péter Lengyel | ........ | Totyi |
| Erika Maretics | ........ | Bori |
| András Márkus | ........ | Oma/Omasics |

Notes:
IMDB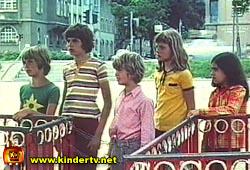 Circus Adventure
Also known as: Circus op stelten, Circus in an Uproar

The Netherlands 1972 69min
Broadcast 10/26/74, 08/09/75
Directed by: Karst van der Meulen


Five Dutch youngsters try out for the big top as jugglers and acrobats. Unfortunately, the circus manager is not interested in them. Their ambitions take a further tumble when the kids inadvertently set off a series of comic mishaps every time they show up. With the help of a boy who works in the circus, they discover the culpit, an escaped monkey. As a reward for catching the animal, the kids are given a chance to realize their dreams of performing.

Cast:
| | | |
| --- | --- | --- |
| Manager | ........ | Ton Stelloo |

Child performers: Jeroen Teijssen, Rene Teijssen, Ariane Kamerman, Anne-Marie van Doorenmaaien, Bert van Amstel
Notes:
IMDB




The Boy Who Wore Spectacles

Soviet Union
Broadcast 11/02/74, 06/14/75
Directed by:

A film which tells of the fantasy life of Kuvanychbek. a small boy whose accomplishments are less satisfying than his dreams. Kuvy's father has always impressed upon him the importance of protecting those who are smaller and weaker. Kuvy tries to put that lesson to use when his little friend Bermeta is pushed out of line at the ice cream truck by some rough children, but he is only laughed at by the bullies. Kuvy then experiences a number of fantasies in which be imagines himself as a spycatching hero, a teacher giving the class bully a hard time, and a soccer star. But the success he achieves in these dreams continues to elude him in real life. Only when he finally emerges triumphant in reality does he gain the self-confidence to intervene successfully when Bermeta is again pushed around by tough children.

Cast:


Notes: .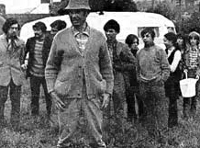 Mauro the Gypsy

United Kingdom 1972 43min
Broadcast 11/16/74, 05/30/75
Directed by: Laurence Henson


A gypsy boy and his family encounters prejudice after moving to a Scottish village on the English seacoast. When Mauro and his family first arrive at the village seeking a permanent camp site, the local council grants them permission to remain, provided they cause no problems. Thanks to the work of two local troublemakers, the villagers suspect Mauro is stealing chickens, and a petition against the gypsies is circulated. Eventualy, events force Mauro to go into hiding. Mauro attempts to locate the real culprits, and in doing so, becomes involved in a number of hair-raising adventures. His only friend is a girl named Leslie. She tries to help Mauro when villagers accuse him of starting a fire; he later ends up saving her. The villagers eventually reconsider their treatment of the young man.

Cast:
| | | |
| --- | --- | --- |
| Graeme Greenowe | ........ | Mauro |
| Fiona Kennedy | ........ | Leslie |
| Andrew Byatt | ........ | Bert |
| Victor Carin | ........ | Shaw |

Notes: Won the Gold medal at the Moscow Film Festival a special award for contribution to racial tolorance.
A Children's Film Foundation Production.
IMDB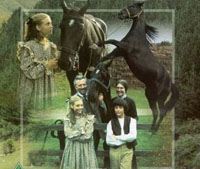 A Member of the Family

United Kingdom 1973
Broadcast 11/30/74, 08/23/75
Directed by: Various


A girl, her horse, and a mischief-maker are the central characters in this story taken from the UK television series "The Adventures of Black Beauty". A disturbed boy sets fire to a stable and is taken in by the owners. Later, the horse saves him from suspicion of robbery by cornering the real thief.

Cast:
| | | |
| --- | --- | --- |
| Stephen Garlick | ........ | Ned Lewis |
| Judi Bowker | ........ | Vicky Gordon |
| Stacy Dorning | ........ | Jenny Gordon |
| Roderick Shaw | ........ | Kevin Gordon |

Notes: This is an adaptation of the two part episode, "A Member of the Family", from Season 2 of the series.
IMDB




Un Amico
Also known as: A Friend

Italy 1967 93min
Broadcast 01/25/75, 06/28/75
Directed by: Ernesto Guida


A lonely eight year old boy named Sergio runs away from home after his father threatens to sell his dog Sausage. The boy and the dog have a series of seaside adventures, until they meet up with three other kids. Roberto and Maria Vera, brother and sister, are from a wealthy family, while Mezzalingua is the son of a fisherman. The group steals the sailboat belonging to the father of the two siblings, and after falling asleep, they end up shipwrecked on an offshore desert island. A day later, three men show up in a rowboat. Among the three men, Sergio finds an unusual friend: a "Professor" hunting for buried treasure. The "Professor", in reality, happens to be one of three recently escaped convicts. Eventually everyone returns to land and goes their separate ways, but the boy wishes to remain with his new friend. During their journey together, the boy steals clothes for his friend, but the Professor makes it clear that stealing is wrong. It soon becomes impossible for the two to travel together, and the boy eventually returns home with his dog.

Cast:
| | | |
| --- | --- | --- |
| Giulio Bosetti | ........ | The Professor |
| Fortunato Marsala | ........ | Sergio/Scricchiolo |
| Giuseppe Pellegrino | ........ | Roberto |
| Sofia Dionisio | ........ | Maria Vera |

Notes: The lead juvenile actor won a prize for his performance at the 1968 Venice Film Festival.
IMDB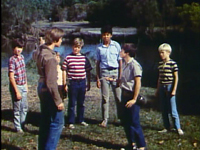 Strange Holiday
Also known as: Boys of Lost Island (DVD)

Australia 1969 75min
Broadcast 02/01/75, 08/02/75
Directed by: Mende Brown


A group of ten boys on a sailing holiday are shipwrecked on a deserted island in the South Pacific. The boys set up housekeeping in a cave, elect officers for their new community, and plan for their survival. One day, after a fierce storm, the kids discover four unconscious men and a small boat on the beach. A survivor of the previous shipwreck, a young woman, tells of three British prisoners with guns taking over the ship after the storm hit, saying that only she, the ship's carpenter, and the three armed men were left when the ship was wrecked. The following day, the men have disappeared. While the carpenter explores the island, the kids come up with a plan which scares off the men. The carpenter then finds a map which indicates they are much closer to home than they thought, so a course is plotted, their boat is launched, and the strange holiday comes to an end.

Cast:
| | | |
| --- | --- | --- |
| Jaeme Hamilton | ........ | Briant |
| Mark Healey | ........ | Doniphan |
| Jaime Massang | ........ | Moco |
| Van Alexander | ........ | Gordon |

Notes: Available on DVD under the title "Boys of Lost Island"
A Mass-Brown Pictures Corporation Production
IMDB



Also Broadcast:
| | |
| --- | --- |
| Black Mountain | 10/19/74, 04/05/75 |
| Lucy and the Miracles | 11/09/74, 05/10/75 |
| The Lone Wolf | 11/23/74, 05/24/75 |
| Birds Come Flying to Us | 11/23/74, 02/08/75, 06/21/75 |
| The Giant Eel | 12/14/74, 07/05/75 |
| Gosha the Bear | 01/04/75, 05/31/75, 08/30/75 |
| Countdown to Danger | 01/18/75, 06/07/75 |
| Friends for Life | 02/15/75, 07/12/75 |
| Jumping Over Puddles | 03/29/75 |
| Six Bears and a Clown | 07/19/75 (Pt.1), 07/26/75 (Pt. 2) |
---