The CBS Children's Film Festival
1967 Season
(February 5 - March 26)
---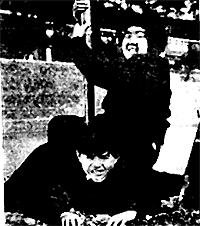 Skinny and Fatty
Also known as: Chibideka monogatari

Japan 1958 45min
Broadcast 02/05/67
Directed by: N. Terao


A chubby boy from a wealthy family befriends a lean and poorer classmate in this sentimental children's story. The film deals with two boys-—one who excels in sports, studies and making friends, the other shy, awkward, and afraid—-who become friends and help each other to mature. The two children meet for the first time when the new boy arrives at a new school in the middle of the term. Shy, unsure of himself, Oyama, "Fatty", has a knack for making people, especially other children, detest him. He shares a desk with Komatsu, "Skinny", who gives him a helping hand, out of pity at first, but later from genuine friendship. Komatsu has no trouble making or keeping friends, as he can get along with anyone. But the smaller boy soon finds himself having to fight Oyama's battles for him, so Komatsu starts prodding him to stand up for himself. At first, Oyama is reluctant and afraid, but he loses all self-consciousness when he finds he has to come to Komatsu's aid. Komatsu comes from a rather poor family, but he good-naturedly shares everything he has with Fatty. Gradually the two become inseparable, each one prepared to sacrifice for the other. Then disaster strikes. Komatsu's father has to move his family to another area. The two friends have to break up. All Oyama has as a memento is a primitive toy that Komatsu gave him when they first played together. The toy proves to be the catalyst that prods Fatty into his first unsure steps toward growing up.

Cast:
| | | |
| --- | --- | --- |
| Y. Kataoka | ........ | Oyama |
| H. Sha | ........ | Komatsu |

Notes:
IMDB



The Blind Bird

Also known as: Slepaya Ptitsa, Слепая птица

Soviet Union 1962 60min
Broadcast 02/12/67
Directed by: Boris Dolin


Vasya, a young boy who finds a blind pelican talks his grandfather into taking the bird in for medical help. The two search for a doctor after they read a newspaper article about the famous physician arriving in Moscow. The boy hopes the surgery will allow the bird to fly south for the winter with the rest of his flock.

Cast:
| | | |
| --- | --- | --- |
| Volodya Aseyev | ........ | Vasya Makayev |
| Olya Blok | ........ | Olya |
| Vladmir Lukyanov | ........ | Seryozha |


Notes: Won the grand prize in the Children's category at the Venice Film Festival in 1964.
IMDB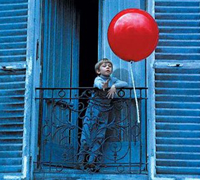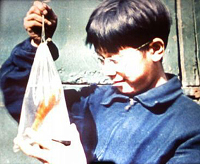 The Red Balloon
The Golden Fish

Broadcast 02/19/67

1. The Red Balloon
Also known as: Le Ballon Rouge, El globo rojo
Der Rote Luftballon
France 1956 34min
Directed by: Albert Lamorisse


The story, told without dialogue, concerns a little boy who comes across a helium-filled balloon. As he plays with his new acquisition, the boy discovers that the balloon seemingly has a mind of its own. The little red orb follows its new "master" all through the streets of Paris. Towards the end, it seems as though boy and balloon will be parted forever when jealous boys "kill" the balloon with rocks, but there is a surprise at the end.

Cast:
| | | |
| --- | --- | --- |
| Pascal Lamorisse | ........ | Pascal (The Boy) |
Notes: Winner of multiple awards, including the Academy Award for Best Original Screenplay.
IMDB

2. The Golden Fish
Also known as: Histoire d'un poisson rouge
France 1959 19min
Directed by: Edmond Séchan

A tale of a little boy who wins a fish at a carnival and takes it home to become a friend of his canary. The fish is swimming happily in his bowl while the boy is away at school when the family cat enters the room and begins to stalk his "prey". The fish becomes agitated by the cat's presence, and finally jumps out of the bowl. The cat quickly goes over to the fish, picks him up with his paws, and returns him to his bowl. The boy returns home, none the wiser.

Notes: Produced by Jacques Cousteau
The short won the 1960 Academy Award for Best Short Subject, Live Action Subjects.
It also won the 1959 Special Jury Prize at the Cannes Film Festival
IMDB




The Yellow Slippers
Also known as: Historia zóltej cizemki,
Story of the Golden Boot

Poland 1961 83min
Broadcast 02/26/67
Directed by: Sylwester Checinski
This is a story set in medieval times of a 10 year old genius, the little sculptor Wawrzek. After running away from his master and embarking on a series of adventures, he finds work as an apprentice for a great master sculptor, Wit Stwosz. The story culminates in the unveiling of Stwosz's greatest masterpiece, the Altar of St. Mary's Church in Cracow.

Cast:
| | | |
| --- | --- | --- |
| Gustaw Holoubek | ........ | Wit Stwosz |
| Andrzej Szczepkowski | ........ | Rafal |
| Marek Kondrat | ........ | Wawrzek |
| Tadeusz Bialoszczynski | ........ | The King |

Notes: Received critical praise at the first New York International Children's Film Festival in 1965.
IMDB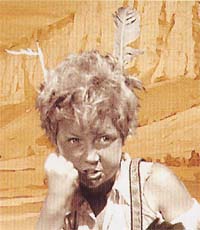 The Ransom of Red Chief
Also known as: Delovye lyudi, Business People,
Деловые люди

Soviet Union 1962
Broadcast 03/05/67
Directed by: Leonid Gaidai


One of three short films comprising this anthology of O'Henry adaptations. Two petty thieves kidnap a boy, but soon wish they had never bothered. Meanwhile, the imaginative boy is enjoying the adventure.

Cast:
| | | |
| --- | --- | --- |
| Sergei Tikhonov(as Seryozha Tikhonov) | ........ | Boy |
| Georgi Vitsin | ........ | Kidnapper |
| Aleksei Smirnov | ........ | Kidnapper |

Notes: There have been several US remakes, including one in 1998 with Haley Joel Osment.
IMDB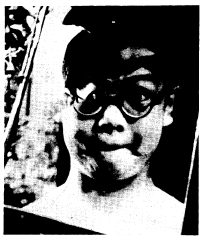 The Boy with Glasses

Japan 1962
Broadcast 03/12/67
Directed by: Jukichi Uno


When a sensitive 9-year-old from Japan is told he must wear glasses, he experiences feelings of inferiority and fears that he'll be subject to the taunts of the rest of his classmates. His stepfather, who also wears glasses, is sensitive to the boy's feelings but is unable at first to communicate effectively with him. As it turns out, the only thing he has to face are his own fears. His friends are curious and congratulatory, with only a pathetic handful stooping to make fun of him. Susumu learns that a person is judged by what comes from within rather than by his outward appearance.

Cast:
| | | |
| --- | --- | --- |
| Kazuo Kanisha | ........ | Susumu |

Notes: Produced by Educational Film Exchange, Tokyo.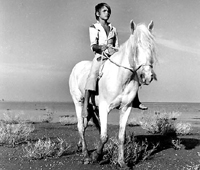 White Mane
The Boy Who Owned A Melephant

Broadcast 03/19/67

1. White Mane
Also known as: Crin-Blanc, Crin blanca
France 1952 40min
Directed by: Albert Lamorisse


In the south of France, the boy Folco watches as a proud stallion named White Mane eludes a group of ranchers attempting to capture him. Folco decides to claim the animal for himself himself, and succeeds in throwing a rope around his neck. White Mane gallops away but Folco holds on and is dragged through grass and mud. Finally, the horse stops, having come to a realization that Folco means him no harm. The boy and the horse become fast friends. Soon the ranchers return, determined this time to capture the stallion.
Cast:
| | | |
| --- | --- | --- |
| Alain Emery | ........ | Folco, the boy |
| Pascal Lamorisse | ........ | Little Brother |

Notes:Winner of seven international awards.
IMDB


2. The Boy Who Owned a Melephant
United States 1959 30min
Directed/adapted by: Saul Swimmer and Tony Anthony


Tallulah Bankhead narrates this children's tale about a boy and his pet elephant. Seven-year-old Johnnie developes an insatiable desire to have a pet elephant after he sees his first circus. His mother finds an ingenious way of satisfying her son's wish.

Cast:
| | | |
| --- | --- | --- |
| Brockman Seawell | ........ | Boy |
| Molly Turner | ........ | Mother |

Notes: Brockman Seawell, now a producer, was the godson/heir of Ms. Bankhead.
The film reportedly won a Gold Leaf at the Venice Film Festival.
A Gayle-Swimmer-Anthony Production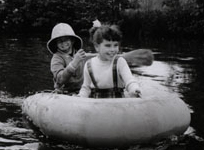 Hand in Hand
Also known as: The Star and the Cross
La Cruz y la Estrella

United Kingdom 1960 72min
Broadcast 03/26/67
Directed by: Philip Leacock


A Catholic boy and a Jewish girl, Michael and Rachel, become the best of friends. They share adventures together and even become "blood brothers". Their religious differences aren't a serious issue, until comments by family and others cause the youngsters to wonder if God is against their friendship. After gathering the courage to visit each other's places of worship, they resolve this issue for themselves. However, their new-found confidence eventually leads to near-tragic consequences during an excursion down a river.

Cast:
| | | |
| --- | --- | --- |
| Loretta Parry | ........ | Rachel Mathias |
| Philip Needs | ........ | Michael O'Malley |
| John Gregson | ........ | Father Timothy |
| Sybil Thorndike | ........ | Lady Caroline |
| Finlay Currie | ........ | Mr. Pritchard |
Notes: The film reportedly won 14 international awards, including the children's category at the Venice Film Festival.
Special 90 minute airing
IMDB

---