The CBS Children's Film Festival
1969 Season
(January 26 - April 6)
---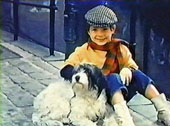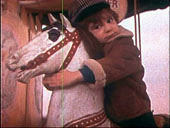 Clown and
Other Stories

Broadcast 01/26/71
Three shorts from France that deal with the emotions and adventures of three boys.

1. Clown (1968) 15min
Directed by: Richard Balducci

This short film concerns a young boy and his beloved dog Clown. The little boy romps happily through the streets with his pet, until one day when he stops to play cards with friends in a park. After the game, Clown is seen running off. The little boy searches the streets for his pet, until one day he spies his beloved Clown. It appears, however, that Clown has found a new owner...

Cast: Gilou Pelletier (The Boy) Also: Thalie Frugès, Christian Hay, Viviane Landford

IMDB

2. The Little Wooden Horse (1966) 18min
Also known as: The Merry-Go-Round Horse,
Le Petit cheval de bois
Directed by: Richard Balducci

A young boy is captivated by a carousel horse and steals a waiter's tip for just one ride. When the horse is replaced by a racing car, the boy follows the horse, an adventure that takes him to a flea market and the eventually to the house of a cruel and wealthy child who has become the horse's owner.

Cast: Gilou Pelletier (The Boy) Also: André Badin, Jeanne Colletin, Paul Préboist

IMDB

3. The Boy and the Airplane (1965) 9min
Also known as: The Little Airplane that Grew,
L'Enfant et L'Avion
Directed by: Pierre Rihouet

A fantasy of a schoolboy who sits in his classroom and daydreams instead of studying. He dreams that his model plane performs as a full-sized aircraft and performs breathtaking feats in the sky. The daydream ends when the teacher takes his plane away from him. On his way home from school, he see his airplane, grown to full size and wheeling in the sky.

Notes: All three filmes were presented by the Learning Corporation of America.
"Clown" is one of the best sellers among educational films.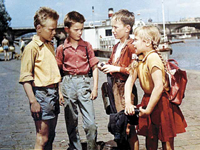 The Lupinek Case
Also known as: Prípad Lupínek, Der Fall Lupinek
L'Affaire Lupínek

Czechoslovakia 1960 74min
Broadcast 02/09/69
Directed by: Václav Vorlícek


A young boy with a knack for investigation gets to prove his stuff when his classmates find their puppets are missing from a local theater and mistakenly blame him for their theft. He sets out to discovering the real culprit.

Cast:
| | | |
| --- | --- | --- |
| Martin Svehla | ........ | Pepík Barnabás |
| Karel Michálek | ........ | Pavel |
| Zuzana Tumová | ........ | Helenka |
| Michal Pelikán | ........ | Honza |

Notes: The first feature film by the director of "Three Nuts for Cinderella".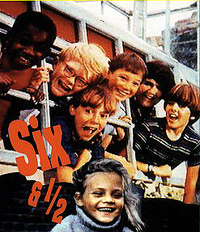 The Magnificent 6 ½

United Kingdom 1967
Broadcast 02/16/69
Directed by: Harry Booth


Three episodes from the first season of the UK series concerning the adventures of seven children whose clubhouse is in an old van in a scrap yard.

1. Ghosts and Gholies: Whizz and Peewee spend an hour in a haunted house.
2. When Knights were Bold: A boy is trapped in a suit of armor
3. Pee-Wee's Pianola: The kids find a runaway player piano with a mind of its own.

Cast:
| | | |
| --- | --- | --- |
| Kim Talmadge | ........ | Peewee |
| Robin Davies | ........ | Steve |
| Ian Ellis | ........ | Dumbo |
| Brinsley Forde | ........ | Toby |
| Suzanne Togni | ........ | Liz |
| Lionel Hawkes | ........ | Stodger |
| Michael Audreson | ........ | Whizz |

Notes: A Century Film/Children's Film Foundation Production
IMDB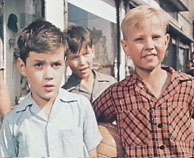 Doggie and Three
Also known as: Doggie and Four, Punta a ctyrlístek
Punta and the Four Leaf Clover

Czechoslovakia 1955
Broadcast 02/23/69
Directed by: Jirí Weiss


This film documents the consequences of fib. Tony is followed down the street by a dog. To impress his pals, Tony claims that the dog is his. When the pooch goes back to its original owner, a little girl, two of Tony's well-meaning friends kidnap the pet and "return" it to Tony. A little white lie quickly grows into a mountain as they try to undo their mischief. The boys end up running into trouble with their teachers, the cops, the girl's friends, and their own consciences.

Cast:
| | | |
| --- | --- | --- |
| Ales Kosnar | ........ | Tony/Tonik Burda |
| M. Konkal | ........ | Charles |
| Alex Allan | ........ | Andra |
| Václav Postránecký | ........ | Paul |

Notes:
IMDB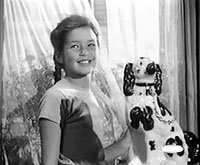 Adventure in the Hopfields
Also known as Przygoda na plantacji

United Kingdom 1954 57min
Broadcast 03/02/69
Directed by: John Guillermin


A little girl named Jenny tries to earn enough money to replace her mother's favorite china dog, which she has broken. She takes off to get a job in the Kent hopfields and saves the money for a replacement, but a duo of tough kids steal the new china dog. After following them, they tie her up and leave her in a decrepit old mill. When the building later catches fire during a violent electrical storm, the junior crooks turn heroes and rescue the girl.

Cast:
| | | |
| --- | --- | --- |
| Mandy Miller | ........ | Jenny Quin |
| Mona Washbourne | ........ | Mrs. McBain |
| Harold Lang | ........ | Sam Hines |
| Melvyn Hayes | ........ | Ned Reilly |
| Hilda Fenemore | ........ | Mrs. Quin |
| Russell Wates | ........ | Mr. Quin |
| Wallas Easton | ........ | Postman |
Notes: The film was thought lost until a copy was found in 2002 in a trash bin in Chicago.
A VanDyke Picture Corporation Production/Children's Film Foundation Presentation
IMDB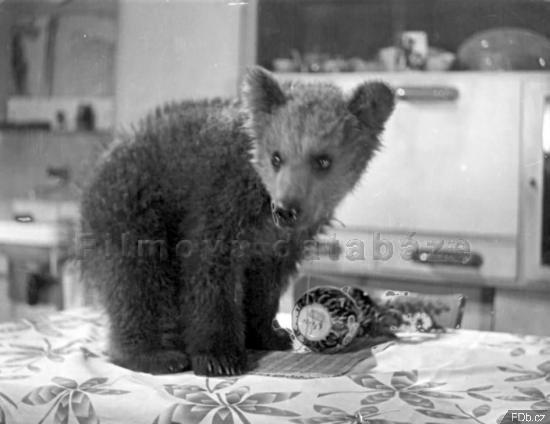 The Little Bearkeepers
Also known as: Malí medvedári, Young Bear-Keepers,
Bimbo Bear, Miś Bimbo, Der kleine Bärenführer

Czechoslovakia 1957 66min
Broadcast 03/09/69
Directed by: Jindřich Puš and Jiří Jungwirth


Six year old Joe, who grew up around the zoo where his mother works as an attendant, grows fond of the baby bear known as Brumla. He, his older brother and his friend offer to help the bear-keeper Kaleb with his work. One day a group of Vietnamese children visit the zoo and bring with them a gift - a baby elephant. In return, they are to take Brumla back with them. Joe cannot part with the little bear and decides to hide it. He flees the zoo taking Brumla with him, however, the little bear gets up to all sorts of trouble and keeps running away from the boy. In the end Joe realizes that this was not a good idea and he brings Brumla back. At the party organized for the Vietnamese children he hands over Brumla to the little girl Zoe. The little elephant brought over by the Vietnamese children is named after Joe who now has a new friend.

Cast:
| | | |
| --- | --- | --- |
| Gustav Heverle | ........ | Kaleb |
| Dana Medricka | ........ | Mme. Bures |
| Vojtech Rosenberg | ........ | Joe/Pepik |
| Brinsley Forde | ........ | Misha (Mishka) |
| Chan Thi Hien | ........ | Zoe/Zue |

Notes: The Vietnamese actors in the film were children who lived in a group home in Czechoslovakia.
Czech Database





Also Broadcast:





The Festival goes on hiatus in 1970, with the exception of a special 90 minute broadcast of "Hand in Hand" on March 22, 1970.



*Special 90 minute broadcast
---