The CBS Children's Film Festival
1971-1972 Season
---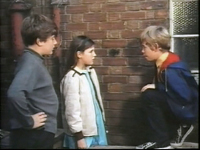 Cry Wolf

The United Kingdom 1968 58min
Broadcast 09/11/71, 02/19/72, 07/01/72
Directed by: John Davis


A modern version of the classic tale concerning the boy who gives one too many false warnings of danger and finds that no one believes him when real danger threatens. Tony overhears a plot to kidnap the Prime Minister. When no one believes him, he and his two friends try to interfere, nearly becoming wolf-bait in the process. A young woman, Stella, gains the boy's confidence, but he later discovers that she is part of the scheme.

Cast:
| | | |
| --- | --- | --- |
| Anthony Kemp | ........ | Tony |
| Mary Burleigh | ........ | Mary |
| Martin Beaumont | ........ | Martin |
| Judy Cornwell | ........ | Stella |

Notes: A Damor Leaderfilms/Children's Film Foundation Production.

Honored in 1970 at the prestigious Teheran International Festival of Films for Children, where it Won a Golden Delfan award from the Iranian Ministry of Education.
IMDB




Elephant River

Ceylon 1956
Broadcast 09/18/71, 02/12/72
Directed by: Kenneth Hume

An Eurasian boy is treated as an outcast. When his widowed mother dies, the young boy feels there is no one left to care for him and runs into the jungle with his pet elephant to live off the land. He comes upon poachers who are trying to trap trained elephants to sell as work animals to wealthy estate owners. The boy tries to set one of the animals free but is discovered, wounded and left for dead. It is only through the aid of his elephant pet that the boy is saved and later revealed as a hero. The country's culture and customs are revealed in this tale.

Cast:
| | | |
| --- | --- | --- |
| David Wyman | ........ | David |
| Tissa Weerasinghe | ........ | David's Mother |
| John Gibson | ........ | Lester |
| Marjorie Murdock | ........ | Mrs. Lester |
| Joe Kiel | ........ | David's Friend |
Notes: Three pilot films were made late 1958/1959, for a projected series called "The Adventures of an Elephant Boy", starring the 14 year old David Wyman. The film crew encountered problems with their Cingalese extras, who were allegedly paid in beer. When the beer ran out, so did the extras. Supposedly two cameramen died during the filming from snake bites.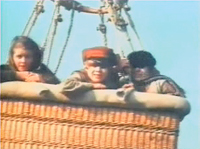 Up in the Air

The United Kingdom 1969 55min
Broadcast 09/25/71, 03/11/72, 07/15/72
Directed by: Jan Darnley-Smith

Freddie is sent to a boarding school. Finding life unendurable due to bullies and the headmaster, Freddie and his friends determine to run away. The idea of building a balloon occurs when they see the amateur balloonist flying over the school. Secretly they manufacture their balloon and set off to put their grievances before the school governor.

Cast:
| | | |
| --- | --- | --- |
| Gary Smith | ........ | Freddie |
| Jon Pertwee | ........ | Figworthy |
| Felix Felton | ........ | Sir Humphrey |
| Mark Colleano | ........ | Moriarty |
| Susan Payne | ........ | Mary |

Notes: A Children's Film Festival Production

IMDB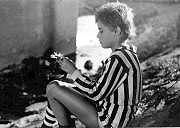 For Boys Only is for Girls Also
Also known as: Ivana v útoku, Ivana Attacks!

Czechoslovakia 1964 64min
Broadcast 10/09/71, 02/26/72, 07/08/72
Directed by: Josef Pinkava


12-year-old Vicki is as good as any boy at football (soccer) and wants to play for the school team, but she is the wrong sex. When a member of the team has to pull out due to injury, her brother conspires to use her as a replacement by cutting her hair and passing the girl off as a boy.

Cast:
| | | |
| --- | --- | --- |
| Eva Járková | ........ | Vicki/Ivana |
| Vladimír Hönig | ........ | Trener |
| Miloslav Jaksík | ........ | Mirek |
IMDB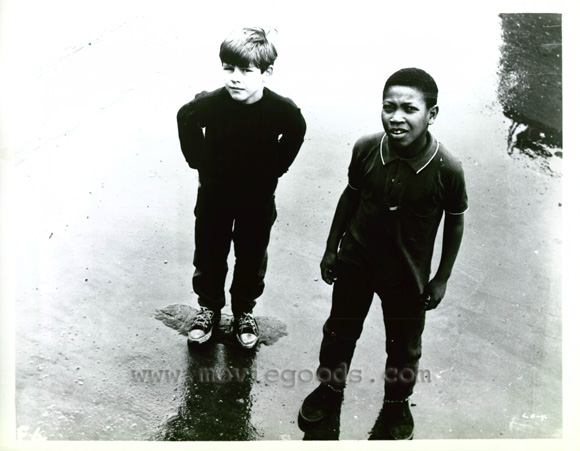 The Little Ones
Also known as: Fledglings

The United Kingdom 1965 66min
Broadcast 10/16/71, 03/04/72
Directed by: Jim O'Connolly

Two boys from the London slums--one an abused child, the other, the son of a neglectful hooker, flee their neighborhood for adventures on the road to and in the streets of Liverpool . Jackie and Ted attempt to board a Jamaica bound ship in order to escape their miserable lives. It is on the exotic island that one of the boys father is said to live. They stow away to Liverpool on a furniture van and steal in order to eat. Unfortunately, they end up stealing a suitcase from a car belonging to a shipping magnate. They are caught, lectured and sent home. Their one hope is that they find out that there are many ships leaving from the London docks to Jamaica.

Cast:
| | | |
| --- | --- | --- |
| Kim Smith | ........ | Ted |
| Carl Gonzales | ........ | Jackie |
| Jean Marlow | ........ | Ted's Mother |
| Peter Thomas | ........ | Ted's Father |
| Dudley Foster | ........ | Inspector Carter |
| Derek Francis | ........ | Paddy |

Notes: A Goldenhawk Production, released by Columbia Pictures
IMDB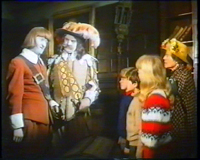 A Ghost of a Chance

The United Kingdom 1968 48min
Broadcast 10/30/71, 04/15/72, 09/02/72
Directed by: Jan Darnley-Smith


Three young children have been using an abandoned historical mansion as a clubhouse. One night they overhear, to their dismay, that the house is soon to be demolished. Later that same night the kids stumble upon a hidden room, where they meet two 300 year old ghosts who come to the rescue. The children, the ghosts and eccentric old Miss Woollie devise some ghostly hi-jinks and children's pranks to prevent the destruction of the house.

Cast:
| | | |
| --- | --- | --- |
| Patricia Hayes | ........ | Miss Woollie |
| Jimmy Edwards | ........ | Sir Jocelyn |
| Bernard Cribbins | ........ | Ron |
| Mark Ward | ........ | John |
| Cheryl Vidgen | ........ | Jane |

Notes: A Children's Film Foundation Production

IMDB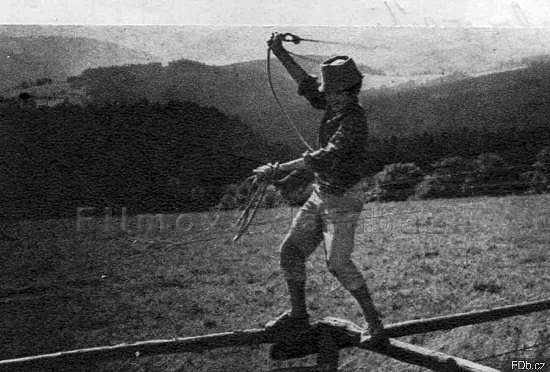 Lost in Pajamas
Also known as Brno Trail, Tanya and the Two Gunmen,
Tana and the Two Sharpshooters, Tana a Dva Pistolnici
Tanja und die zwei Pistolenmänner, Ferienfahrt mit Hindernissen
Tanya et les Cow-Boys

Czechoslovakia 1967 63min
Broadcast 11/27/71, 04/29/72
Directed by: Radim Cvrcek


Tanya is a 10-year-old Russian tourist traveling with her parents from Prague to Brno. She leaves her compartment when the train stops due of a cow. Disobeying her parent's instructions, the girl gets off the train to investigate, lingers too long, and the train leaves without her. Cold, lonely, and wearing only her pajamas in the unfamiliar countryside, she is relieved to meet up with two rather nervous Czech boys camping out together for the first time. At first the would-be "cowboys" are frightened by her ghost-like appearance. After hearing her story, they decide to accompany her on foot to Brno. During their trip, the three become involved in a series of comical adventures before reaching their destination.

Cast:
| | | |
| --- | --- | --- |
| Dasa/Dagmar Pazderova | ........ | Tanya/Tana |
| Ivo Strangmuller | ........ | Pepik |
| Láda/Vladimír Zátka | ........ | Lojza |
| Antonín Jedlicka | ........ | Magician |
| Václav Babka | ........ | Constable |

Notes:
IMDB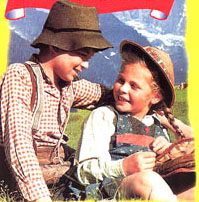 Heidi

Germany-Austria 1965 89min
Broadcast 01/22/72, 06/03/72 (Part 1)
01/29/72, 06/10/72 (Part 2)
Directed by: Werner Jacobs


Location footage of the Swiss Alps highlights this familiar tale of a girl raised in the mountains by her grandfather. Her world abruptly changes when her aunt takes her, without her grandfather's consent, to Frankfurt. Heidi's unfamiliarity with her new urban surroundings, combined with worry for her grandfather, made the girl homesick. Heidi's sadness was somewhat eased when she realized she was brought to the city to be a companion to Clara, the daughter of the town banker. Clara suffered from paralysis and was confined to a wheelchair. One day the girls visited the stable to see a newborn colt, and, excited by Heidi's enthusiasm, Clara stood up from her wheelchair. Clara's father, when he realized his daughter could walk, wanted to adopt Heidi to show his appreciation. Heidi's wish, however, was to return home to her grandfather.

Cast:
| | | |
| --- | --- | --- |
| Eva Maria Singhammer | ........ | Heidi |
| Michaela May | ........ | Clara/Klara |
| Jan Koester | ........ | Peter |
| Gustav Knuth | ........ | Grandfather |

Notes:
IMDB






Also Broadcast:
| | |
| --- | --- |
| Flash the Sheepdog | 09/26/71, 02/22/72, 04/22/72, 08/05/72 |
| Blind Bird | 10/23/71, 03/18/72, 07/22/72 |
| Tiko and the Shark | 11/06/71, 02/21/72, 04/08/72 |
| Testa di Rapa | 11/13/71, 05/13/72 |
| Lionheart | 11/20/71, 05/0/72 |
| Skinny and Fatty | 12/04/71, 05/06/72, 07/29/72 |
| The Goalkeeper Also Lives on Our Street | 01/08/72, 06/17/72 |
| Funny Stories | 01/15/72, 08/12/72 |
| John and Julie | 02/05/72, 06/24/72 |
| Hand in Hand* | 04/01/72, 08/26/72 |
| The Boy With Glasses | 05/06/72, 08/19/72 |
*Special 90 minute broadcast
---